Apogee Enterprises, Inc.

's

APOG

board has announced a 10% hike in quarterly cash dividend — marking its ninth consecutive year of dividend increase. APOG also increased its existing share repurchase program by 2 million shares. It now has total available share repurchase authorization of 2.6 million. The move support Apogee's commitment of returning capital to shareholders through dividends and share repurchases.
Apogee will now pay the new quarterly dividend of 22 cents per share, bringing the annualized dividend rate to 88 cents. The dividend will be paid on February 15, to shareholders of record at the close of business on Jan 31, 2022. The raised dividend takes the current dividend yield from 1.69% to 1.75%, higher than the

industry

's 0.49%. Over the nine-year period, the company's dividend rate has more than doubled from 9 cents to the currently announced payout of 22 cents per share.
Apogee has a three-year dividend growth rate of 8.3%. It has a payout ratio of 36.2%, higher than the industry's 5.9%. APOG's solid liquidity position coupled with strong free cash flow places it well for growth. So far in fiscal 2022, APOG has returned $44.2 million to its shareholders through share buybacks and dividend payments. It has no significant debt maturities until 2024 and no outstanding borrowings under its revolving credit facility of $235 million. So far in the fiscal, APOG has generated $73 million of free cash flow, which is more than 180% of adjusted net income. This provides APOG with ample opportunity to invest in business and return cash to its shareholders.
Apogee is firmly focused on lowering its debt levels. Its net debt was $84.7 million at the end of third-quarter fiscal 2022, the lowest since fiscal 2017. APOG's total debt-to-total capital also stands at a healthy 25.6%, suggesting its ability to meet its debt obligations.
Last month, Apogee reported third-quarter fiscal 2022 adjusted earnings per share (EPS) of 63 cents, surpassing the Zacks Consensus Estimate of 53 cents but declining 30% year over year. APOG has a trailing four-quarter earnings surprise of 11.9%, on average.
Apogee consistently benefits from a strong performance in the Architectural Services segment. The segment's revenues achieved a record $92 million in the third quarter of fiscal 2022. The same has been winning several new project awards and building project pipeline for the coming years. The Large-Scale Optical unit's performance indicates a steady improvement in demand from the pandemic-induced declines in 2021. The Framing Systems segment witnessed solid year-over-year growth and margin expansion in the fiscal third quarter. APOG's segments have the potential to increase the market share, expand into new geographies and markets and introduce products.
Given its solid growth prospects, Apogee projects fiscal 2022 adjusted EPS between $2.25 and $2.40. APOG reported adjusted EPS of $2.40 in fiscal 2021. Cost-reduction initiatives and procurement savings will deliver significant savings in fiscal 2022. In fact, benefits from the pricing and restructuring actions and efforts to drive productivity will improve APOG's bottom-line results in the fiscal fourth quarter.
Price Performance

Shares of Apogee have gained 36.8% over the past year against the industry's decline of 35.8%.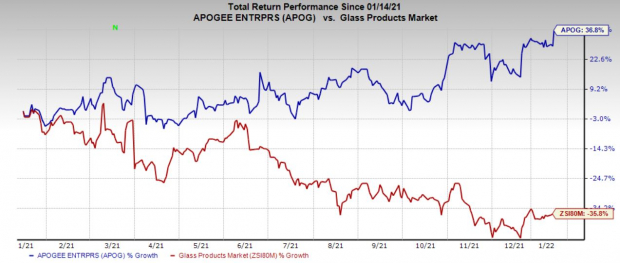 Image Source: Zacks Investment Research

Zacks Rank & Stocks to Consider

Apogee currently carries a Zacks Rank #3 (Hold).
Some better-ranked stocks in the Industrial Products sector are

Berry Global Group, Inc.


BERY

,

AGCO Corporation


AGCO

and

W.W. Grainger, Inc.


GWW

. While BERY flaunts a Zacks Rank #1 (Strong Buy), AGCO and GWW carry a Zacks Rank #2 (Buy). You can see


the complete list of today's Zacks #1 Rank stocks here.


Berry Global Group has an estimated earnings growth rate of around 2.8% for fiscal 2022. In the past 60 days, the Zacks Consensus Estimate for fiscal 2022 earnings has been revised 18% upward.
In a year, the stock has increased 30.5%. Berry Global Group has a trailing four-quarter earnings surprise of 16.5%, on average.
AGCO Corporation has an expected earnings growth rate of 16.3% for 2022. The Zacks Consensus Estimate for current year earnings has moved 1% north in the past 60 days.
AGCO Corporation's shares have gained 9.8% in the past year. AGCO has a trailing four-quarter earnings surprise of 47.5%, on average.
Grainger has a projected earnings growth rate of 20.1% for the current year. The Zacks Consensus Estimate for 2022 earnings has been raised 0.5% in the past 60 days.
GWW's shares have gained 34.8% in a year. Grainger has a long-term earnings growth rate of 13%.

Bitcoin, Like the Internet Itself, Could Change Everything

Blockchain and cryptocurrency has sparked one of the most exciting discussion topics of a generation. Some call it the "Internet of Money" and predict it could change the way money works forever. If true, it could do to banks what Netflix did to Blockbuster and Amazon did to Sears. Experts agree we're still in the early stages of this technology, and as it grows, it will create several investing opportunities.
Zacks' has just revealed 3 companies that can help investors capitalize on the explosive profit potential of Bitcoin and the other cryptocurrencies with significantly less volatility than buying them directly.

See 3 crypto-related stocks now >>

Want the latest recommendations from Zacks Investment Research? Today, you can download 7 Best Stocks for the Next 30 Days.

Click to get this free report


To read this article on Zacks.com click here.