Vistra Corp

.

VST

has raised its greenhouse gas emission reduction target set for 2030 from the 2010 baseline. In 2020, the company set an emission reduction target of net zero by 2050 and lowered emission by 45% in the year from the 2010 levels. Currently, the company targets to achieve a 60% reduction in its Scope 1 and Scope 2 CO2 equivalent emissions by 2030 from the 2010 baseline. This new emission reduction target will assist the company to meet in net-zero carbon emission goal set for 2050.
Path to Net-Zero Emission

Vistra has already chalked out detailed plans for the transformation of its existing generation portfolio and is focused to add more clean assets in generation. At present, the company has nearly 4,000 megawatt (MW) of zero-carbon generation online or under development.  Vistra aims to add 9,000 MW of zero-emission generation in its production portfolio by 2030. The company will invest in solar plants and battery storage projects.
Vistra has plans to shut down nearly 8,000 MW of its coal-fueled power plants by 2027 to reduce emission from its electricity generation process. By 2030, the company targets to produce nearly 90% of its electricity from low to zero carbon emission sources.
Transition in Utility Space

A clear transition is evident in the Utility space of the United States as an increasing number of utility operators on their own are setting net-zero emission targets in electricity production.  Per the International Energy Agency, to reach net-zero emissions by 2050, annual clean energy investment worldwide will need to more than triple by 2030 to around $4 trillion. Utilities are making investment to adopt clean energy sources and are trying to find and produce electricity from commercially viable clean sources.
The ongoing development in technology and research and development, alternate sources of energy like wind, water, and solar power are being utilized to produce energy. The supportive legislation of the U.S. government has helped in the development and usage of clean energy sources.  Nuclear energy is also a clean energy source and with government support can be a solution to the emission problem. It generated more than 50% emission-free electricity in the United States in 2020.  Recently,

Exelon Corporation


EXC

received regulatory support to continue operating its Byron and Dresden nuclear plants in Illinois, which were scheduled to shut down by end of this year.
Utilities like

Dominion Energy


D

and

Duke Energy Corporation


DUK

, among an increasing group of utilities, have already pledged net-zero emission by 2050. Both these companies are focused to add more alternate clean sources of energy to produce electricity and lower emission.
Price Performance

In the past six months, shares of the company have gained 3.6%, outperforming the

industry

's rise of 1.6%.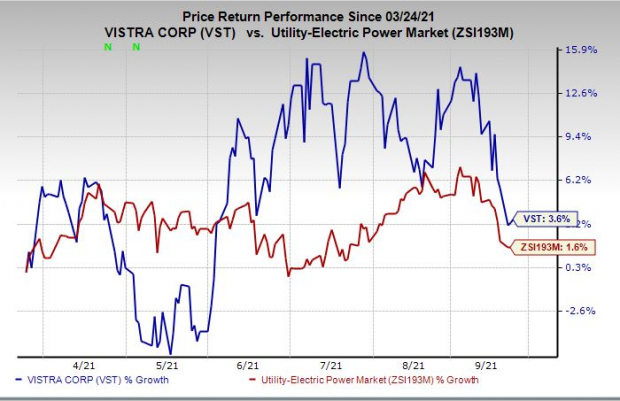 Image Source: Zacks Investment Research

Zacks Rank

Vistra currently carries a Zacks Rank #4 (Sell).
You can see


the complete list of today's Zacks #1 Rank (Strong Buy) stocks here.



More Stock News: This Is Bigger than the iPhone!

It could become the mother of all technological revolutions. Apple sold a mere 1 billion iPhones in 10 years but a new breakthrough is expected to generate more than 77 billion devices by 2025, creating a $1.3 trillion market.
Zacks has just released a Special Report that spotlights this fast-emerging phenomenon and 4 tickers for taking advantage of it. If you don't buy now, you may kick yourself in 2022.

Click here for the 4 trades >>

Want the latest recommendations from Zacks Investment Research? Today, you can download 7 Best Stocks for the Next 30 Days.

Click to get this free report


To read this article on Zacks.com click here.