Verizon Communications Inc.


VZ

has enhanced its location-based technology offerings with the acquisition of Senion – a Sweden-based firm that specializes in location-responsive solutions. The buyout for an undisclosed amount is likely to enable the carrier to scale up location awareness in IoT devices and harness its power to build customizable solutions with end-to-end development.
Since its inception in 2010, Senion has created a niche market with an indigenous indoor positioning platform that leverages advanced machine-learning sensor fusion technology to deliver sub-meter accuracy for precise positioning and navigation of indoor spaces. This tech startup traces the origin of its name to an abbreviation of "

Sen

sor fus

ion

" – the fundamental technology on which its indoor positioning system (IPS) is based. The IPS is instrumental in locating and understanding the movement of people, machines and IoT-enabled devices within any space and employs locational intelligence for key insights. It also offers an accurate and cheap solution to better utilize physical spaces and increase staff productivity by combining analytics with an interactive dashboard.
With Senion on board, Verizon aims to gain a competitive advantage by integrating the former's indoor wayfinding, geofencing, location sharing, analytics and predictive intelligence technology with its 5G platform. In addition, the value-added solutions are likely to enable the company to offer better service to its customers and improve workflow with seamless orchestration of any space.
Boasting one of the most efficient wireless networks in the United States, Verizon continues to deploy the latest 4G LTE Advanced technologies to deliver faster peak data speeds and capacity for customers, driven by customer-focused planning, disciplined engineering and constant strategic investments. Verizon has also been aggressively forging ahead to expand its fiber optics networks to support 4G LTE and 5G wireless standards as well as wireline connections.
The 5G Ultra Wideband network uses a millimeter-wave spectrum and is designed to provide customers significantly faster download speed and greater bandwidth compared with 4G. Verizon's 5G mobility service offers an unparalleled experience that impacts industries as diverse as public safety, health care, retail and sports. The company's 5G network hinges on three fundamental drivers to deliver the full potential of next-generation wireless technology. These include massive spectrum holdings, particularly in the millimeter-wave bands for faster data transfer, end-to-end deep fiber resources and the ability to deploy a large number of small cells.
The company remains focused on making necessary capital expenditures to support increased demand for network traffic. At the same time, Verizon is focusing on the build-out of its 5G Ultra Wideband network, deployment of fiber assets across the country and shift toward Intelligent Edge Network architecture. In order to expand coverage and improve connectivity, Verizon has acquired 161MHz of mid-band spectrum in the C-Band auction for a total consideration of $45.5 billion. These airwaves offer significant bandwidth with better propagation characteristics for optimum coverage in both rural and urban areas. Verizon reportedly secured 3,511 of the 5,684 licenses up for grabs.
The stock has gained 2.6% in the past year compared with the

industry

's growth of 12.4%.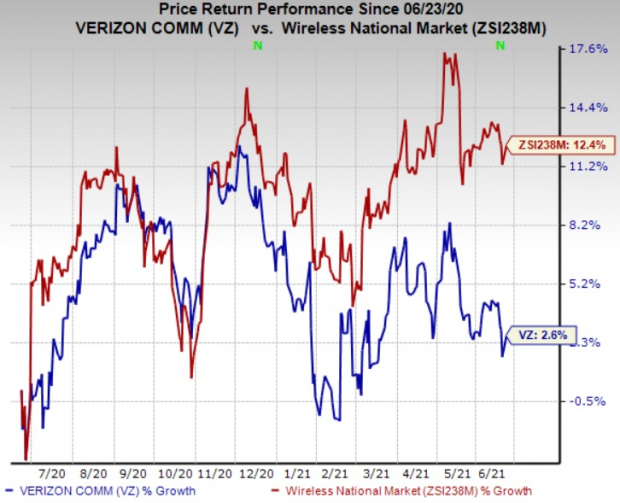 Image Source: Zacks Investment Research

We remain impressed with the inherent growth potential of this Zacks Rank #3 (Hold) stock. Some better-ranked stocks in the industry are

United States Cellular Corporation


USM

,

Cambium Networks Corporation


CMBM

and

ATN International, Inc.


ATNI

, each carrying a Zacks Rank #2 (Buy). You can see


the complete list of today's Zacks #1 Rank (Strong Buy) stocks here


.
U.S. Cellular delivered a trailing four-quarter earnings surprise of 123.9%, on average.
Cambium has a long-term earnings growth expectation of 20%. It delivered an earnings surprise of 46.5%, on average, in the trailing four quarters.
ATN International delivered an earnings surprise of 424.2%, on average, in the trailing four quarters.
5 Stocks Set to Double

Each was hand-picked by a Zacks expert as the #1 favorite stock to gain +100% or more in 2020. Each comes from a different sector and has unique qualities and catalysts that could fuel exceptional growth.
Most of the stocks in this report are flying under Wall Street radar, which provides a great opportunity to get in on the ground floor.


Today, See These 5 Potential Home Runs >>


Want the latest recommendations from Zacks Investment Research? Today, you can download 7 Best Stocks for the Next 30 Days.

Click to get this free report