Southern Copper Corporation


SCCO

is poised well for growth, backed by its industry-leading copper reserves, focus on increasing low-cost production and investment in expansion projects. Even though the recent downtrend in copper prices is concerning, prices will eventually pick up due to the strong demand for the metal.
Output Impacted By Lower Grades, Expected to Pick Up

In the first nine months of 2022, the company registered a 9% year-over-year decline in copper production at 653,430 tons. This was mainly due to work stoppage at the Cuajone mine, as well as lower ore grades. SCCO expects copper production of 900,000 tons for 2022, which is 3% lower than its earlier stated target of 922,000 tons. It also indicates a 7% decline from 965,466 tons in 2021. Nevertheless, these numbers are expected to pick up eventually and reach 926,100 tons in 2023. This will be made possible by the Peruvian production coming back on track and new production on projects of Pilares and Buenavista zinc concentrators.
Metal Prices to Pick Up in the Long Term

Copper prices have been on a downtrend amid the uncertainties surrounding the global economy, as new coronavirus restrictions in China affected the demand for the red metal, thus hurting prices. Zinc prices also bore the brunt of weak demand worries as COVID lockdowns in China stoked concerns over a global recession. Silver prices have also been negatively impacted, weighed down by the stronger U.S. dollar, rising interest rates and sluggish growth.
The long-term outlook for copper is positive, as copper demand is expected to grow, driven by electric vehicles and renewable energy, and infrastructure investments. Copper prices will be supported by growth in public infrastructure investment in the United States, as well as global initiatives to address climate change.
Molybdenum prices are set to increase on the back of healthy demand and reduced supply. Long-term fundamentals for zinc remain strong due to its significant industrial consumption. Silver prices will gain eventually, given its industrial use, impending demand-supply imbalance and on safe-haven demand.
Industry Leading Reserves & Low Cost: A Winning Combination

Southern Copper has the largest copper reserves in the industry and operates high-quality, world-class assets in investment-grade countries such as Mexico and Peru. Backed by its constant focus on increasing low-cost production and growth investments, the company is well-poised to continue delivering enhanced performance. Its efforts to lower costs have aided the company in negating the impacts of higher costs for diesel and fuel, operating and repair materials, supplies and energy, as well as higher labor costs.
Solid Projects on Track

Southern Copper's total investment program in Peru runs to $7.9 billion, including the Michiquillay ($2.5 billion) and Los Chancas ($2.6 billion) projects. Peru is currently the second-largest producer of copper globally and holds 13% of the world's copper reserves. Peru's national output is expected to grow to 206,999 tons in 2023 and 211040 tons in 2024. Michiquillay is expected to become one of Peru's largest copper mines and will produce 225,000 tons of copper per year (along with by-products of molybdenum, gold and silver) for an initial mine life of more than 25 years and at a competitive cash cost. Production is expected by 2029.
The Los Chancas project located in Apurimac, Peru is a copper and molybdenum porphyry deposit. The project envisions an open-pit mine with a combined operation of concentrator and SX-EW processes to produce 130,000 tons of copper and 7,500 tons of molybdenum annually. The project is expected to commence in 2027.
The company has a number of other projects that might be developed in the future, which will help it attain a copper volume production target of 1.5 million tons by 2028.
Price Performance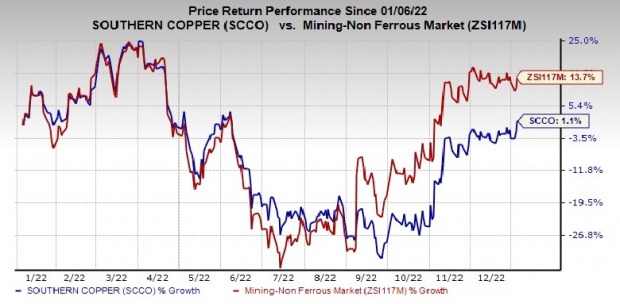 Image Source: Zacks Investment Research

The company's shares have gained 1.1% over the past year compared with the

industry

's 13.7% growth.
Zacks Rank & Stocks to Consider

Southern Copper currently carries a Zacks Rank #3 (Hold).
Some better-ranked stocks from the basic materials space are

CalMaine Foods


CALM

,

Sociedad Quimica y Minera


SQM

and

Reliance Steel


RS

. While CALM and SQM currently sport a Zacks Rank #1 (Strong Buy), RS carries a Zacks Rank #2 (Buy). You can see


the complete list of today's Zacks #1 Rank stocks here


.
The Zacks Consensus Estimate for CalMaine Foods' 2022 earnings per share is pegged at $12.28, suggesting 351.5% growth from the year-ago reported figure. Earnings estimates have moved 51.6% north in the past 60 days. CALM has a trailing four-quarter earnings surprise of 15.3%, on average. Its shares have gained 47.7% in the past year.
The Zacks Consensus Estimate for Sociedad's 2022 earnings per share is pegged at $13.40, suggesting 553.7% growth from the year-ago reported figure. Earnings estimates have moved 3.6% north in the past 60 days. SQM has a trailing four-quarter earnings surprise of 37.4%, on average. Its shares have surged 64% in the past year.
The Zacks Consensus Estimate for Reliance Steel's earnings per share is pegged at $28.65 for 2022, indicating year-over-year growth rate of 29.5%. Earnings estimates have been revised 0.2% upward in the past 60 days. RS has a trailing four-quarter average surprise of 13.6% on average. The company has gained 23.1% in a year.

Zacks Names "Single Best Pick to Double"

From thousands of stocks, 5 Zacks experts each have chosen their favorite to skyrocket +100% or more in months to come. From those 5, Director of Research Sheraz Mian hand-picks one to have the most explosive upside of all.
It's a little-known chemical company that's up 65% over last year, yet still dirt cheap. With unrelenting demand, soaring 2022 earnings estimates, and $1.5 billion for repurchasing shares, retail investors could jump in at any time.
This company could rival or surpass other recent Zacks' Stocks Set to Double like Boston Beer Company which shot up +143.0% in little more than 9 months and NVIDIA which boomed +175.9% in one year.

Free: See Our Top Stock And 4 Runners Up

Want the latest recommendations from Zacks Investment Research? Today, you can download 7 Best Stocks for the Next 30 Days.

Click to get this free report


To read this article on Zacks.com click here.