The best investors adapt to the current market environment. Like an offensive play-caller, they successfully adjust to what the other side (the market) is doing by targeting the right sectors and executing the proper strategies.
On Wednesday, the U.S. Labor Department released its updated CPI which showed inflation rose 7% in December from a year earlier, the fastest pace since 1982. While this was largely anticipated, the rate of change shows just how significant the rise in prices has become:


Image Source: Zacks Investment Research

In this market environment, which investments are likely to outperform?
Consumer demand is still strong and the inflationary pressures that mounted last year are likely to persist in 2022. A few rate hikes from the Fed of 25bp may not be enough to counteract rising costs. While the U.S. consumer is in good shape and the economy can weather slight increases in rates, the damage has already been done.
It seems like everywhere you go people are talking about increased prices. Whether it be food products, oil and gasoline, or input materials, prices have skyrocketed across the board. A short list of commodities shown below are indicative of this situation. Since March 31

st

in 2020, aluminum has risen 67%, copper has climbed 84%, and coal prices have increased 154%.


Image Source: Zacks Investment Research

As a historical hedge against inflation, commodity stocks have been outperforming over the past year and look set to continue that run in the first few months of this year. While investing directly in commodities can be lucrative, decades of market history have shown us that it is far more profitable to own stocks of companies that produce commodities than the commodities they produce. We can even view a more recent example of this, highlighted by the three companies we will be discussing below: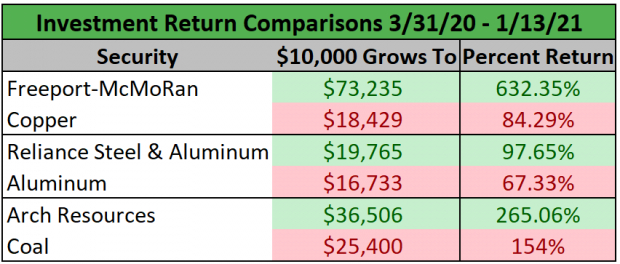 Image Source: Zacks Investment Research

The SDPR S&P Metals and Mining ETF

XME

has soared more than 200% over the same timeframe and is currently withing striking distance of a 52-week high. XME contains all three companies we will analyze. These three firms account for approximately 13.63% of the total SPDR S&P Metals and Mining ETF holdings. While XME has taken a breather in a consolidation pattern for the last several months, the ETF looks poised to continue its outperformance in the short-term.


Image Source: Zacks Investment Research


Freeport-McMoRan Inc. (


FCX


)

Freeport-McMoRan is a leading international mining firm that operates in North America, South America, and Indonesia. FCX primarily explores for copper, gold, molybdenum, silver, as well as oil and gas. Incorporated in 1987 and based out of Phoenix, AZ, Freeport-McMoRan operates approximately 165 wells globally.
FCX is expected to gain from progress in its exploration activities that will boost production capacity. Higher copper prices are also projected to support company margins. FCX is poised to benefit from the international push in electric vehicles, which is positive for copper as EVs are copper-intensive.
FCX has exceeded earnings estimates in nine out of the past ten quarters. Trading at a relatively undervalued 10.77 forward P/E, the stock has vastly outperformed the market since the March '20 market bottom. FCX most recently reported EPS of $0.89, a +14.1% surprise over consensus. In the past year, FCX stock is up 46.48%.

Infrastructure Stock Boom to Sweep America

A massive push to rebuild the crumbling U.S. infrastructure will soon be underway. It's bipartisan, urgent, and inevitable. Trillions will be spent. Fortunes will be made.
The only question is "Will you get into the right stocks early when their growth potential is greatest?"
Zacks has released a Special Report to help you do just that, and today it's free. Discover 5 special companies that look to gain the most from construction and repair to roads, bridges, and buildings, plus cargo hauling and energy transformation on an almost unimaginable scale.

Download FREE: How to Profit from Trillions on Spending for Infrastructure >>

Want the latest recommendations from Zacks Investment Research? Today, you can download 7 Best Stocks for the Next 30 Days.

Click to get this free report


To read this article on Zacks.com click here.