Hecla Mining


HL

reported silver production of 12.9 million ounces in 2021, in line with the guidance of 12.6-13.3 million ounces and gold production of 201,326 ounces compared to its outlook of 193,000-201,000 ounces. On a year-over-year basis, silver and gold production was down 5% and 4%, respectively. Significant production growth at Lucky Friday and Casa Berardi was offset by lower production at the Greens Creek Mine.
Silver equivalent production for the year was 37.6 million ounces, while gold equivalent production was 525,531 ounces. The company had provided silver equivalent production guidance for 2021 at 42.0-43.5 million ounces and gold equivalent production at 469-485 thousand ounces.
Silver production at Lucky Friday increased 75% year over year to 3.56 million ounces in 2021. The mine was in full production for the entire year, since returning to full production in the fourth quarter of 2020. Production came within the company's guidance of 3.4-3.8 million ounces. The gold production at the Casa Berardi mine increased 11% year over year to 134,510 ounces, courtesy of the investments made over the past two years. Production was close to the upper end of management's guidance of 130,000-135,000 ounces.
At the Greens Creek Mine, silver production was down 12% to 9.2 million ounces in 2021, coming at the lower end of the guidance of 9.2-9.5 million ounces. Gold production was down 5% to 46,089 ounces but came in higher than the guidance of 43,000-45,000 ounces. This was primarily due to lower grades and mine sequencing, partially offset by higher mill throughput.
Production Details for Q4

Hecla Mining reported 3.2 million ounces of silver produced in the quarter, marking a sequential improvement of 21%. Gold produced was 47,977 ounces, up 14% from the third quarter of 2021. The Lucky Friday mine produced around 1 million ounces of silver, reflecting a 15% sequential improvement, courtesy of higher grades and an increase in milled tonnage. At Greens Creek, silver production was 2.3 million ounces, up 23% mainly due to silver grades. Gold production was up 5% to 10,229 ounces compared with the third quarter. The Casa Berardi Mine produced 37,266 ounces of gold, implying an increase of 25% from the third quarter of 2021.
Other Updates

Even after spending twice the amount on exploration activities compared to 2020 and enhancing its silver-linked dividend, Hecla Mining delivered an increase of $80 million in its cash balance through the year. This was backed by its strong operational performance in 2021. HL reported a cash position of approximately $210 million at 2021-end.
Hecla Mining is the largest silver producer in the United States. It is the highest-grade silver miner in the world with the third-largest resource base. The company solely produces around 40% of the silver mined in the United States. Its mines have the highest reserve grades, long mine lives and are low cost.
Recently, its peer

Endeavour Silver Corporation


EXK

announced that it has produced 8.3 million silver equivalent ounces in 2021, which was 22% higher year on year. It surpassed the company's expectation of 7.7-8.0 million silver equivalents. This was courtesy of steady performance at Bolanitos and record mill throughput, grade and production at Guanacevi.
The figure of 8.3 million ounces for the year consisted of 4,870,787 ounces of silver and 42,262 gold ounces. Annual silver production exceeded Endeavour Silver's guidance by 3%, while gold production was in line with the upper range of outlook.
Price Performance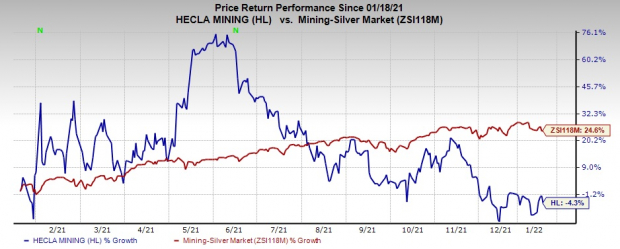 Image Source: Zacks Investment Research

Shares of Hecla Mining have fallen 4.3% in the past year compared with the

industry

's growth of 24.6%.
Zacks Rank & Stocks to Consider

Hecla Mining currently carries a Zacks Rank #5 (Strong Sell).
Some better-ranked stocks from the basic materials space are

Commercial Metals Company


CMC

and

MP Materials


MP

.
Commercial Metals has a projected earnings growth rate of 10.5% for the current fiscal year. The Zacks Consensus Estimate for CMC's current fiscal year earnings has been revised upward by 6.6% over the past 60 days. CMC sports a Zacks Rank #1 (Strong Buy). You can see


the complete list of today's Zacks #1 Rank stocks here


.
The Zacks Consensus Estimate for MP Materials' current fiscal-year earnings suggests year-over-year growth of 37.9%. The estimate has moved up 35% over the past 60 days.
MP Materials has a trailing four-quarter earnings surprise of 154.9%, on average. MP's shares have appreciated around 47% over the past year. The stock currently sports a Zacks Rank #1.

Infrastructure Stock Boom to Sweep America

A massive push to rebuild the crumbling U.S. infrastructure will soon be underway. It's bipartisan, urgent, and inevitable. Trillions will be spent. Fortunes will be made.
The only question is "Will you get into the right stocks early when their growth potential is greatest?"
Zacks has released a Special Report to help you do just that, and today it's free. Discover 7 special companies that look to gain the most from construction and repair to roads, bridges, and buildings, plus cargo hauling and energy transformation on an almost unimaginable scale.

Download FREE: How to Profit from Trillions on Spending for Infrastructure >>

Want the latest recommendations from Zacks Investment Research? Today, you can download 7 Best Stocks for the Next 30 Days.

Click to get this free report