Global Water Resources, Inc

.

GWRS

announced that it has signed an agreement to acquire Las Quintas Serenas Water Company, located near Tucson in Pima County, AZ. This acquisition will enhance the company's service area by 2.5 square miles and add new 1,100 water service connections to the existing customer base.
The Las Quintas Serenas Water acquisition is expected to close next month, subject to regulatory approval. The close proximity of the acquired assets to its existing operations in the region will allow the company to extend high-quality water services to new customers.
Global Water Resources has plans to make the necessary investments in the acquired Las Quintas Serenas Water Company assets. The company is going to convert read meters to smart meters. Global Water Resources has been expanding its footprint in the Pima County through acquisitions. The acquisition of Las Quintas Serenas will be its sixth acquisition in Pima County.
Fragmented Water Industry

Per the U.S. Environmental Protection Agency reports, more than 53,000 community water systems and 16,000 wastewater systems in the United States are providing water solutions to customers. This highly fragmented industry creates operational challenges, as a major portion of the existing water infrastructure in the United States is approaching the end of effective service life. At times, it becomes quite difficult for small service providers to make investments to upgrade the infrastructure.
Consolidation Can Lead to Investment in Water Space

Consolidation can provide a solution to this fragmented and aging water and wastewater infrastructure of the United States. Large water utilities with deep pockets can make the necessary investments, and provide high-quality water and wastewater services to customers. A substantial portion of potable water is wasted every day in the United States due to pipeline breaks. Timely repairs and investments can stop this wastage.

American Water Works


AWK

is quite active in making acquisitions to expand operations and make the necessary investments to upgrade the acquired property. American Water Works has plans to invest $10.4 billion in the 2021-2025 time period and $22-$25 billion in the next decade. From the start of the year till Aug 1, the company expanded the customer base by 11,200 through organic means and acquisitions. On Sep 22, American Water Works' California unit acquired the privately-held East Pasadena Water Company. California American Water, through this acquisition, will be providing water services to 3,000 homes and businesses in the region.
Likewise, another water utility,

Essential Utilities


WTRG

has not only expanded water and wastewater operations through acquisitions but also ventured into the natural gas distribution business through the acquisition of Peoples. It completed the acquisition of the wastewater system of the Village of Bourbonnais on Sep 14, 2021, which added 6,500 customers. The company plans to invest $3 billion through 2023 to fortify water and natural gas operations as well as efficiently serve the expanding customer base.

California Water Service


CWT

has decided to invest in the range of $270-$300 million in 2021 and expand operations through strategic acquisitions. In August, the company received regulatory approval to acquire the water and wastewater systems serving the Preserve at Millerton.
Price Performance

Shares of Global Water Resources have outperformed the

industry

in the past three months.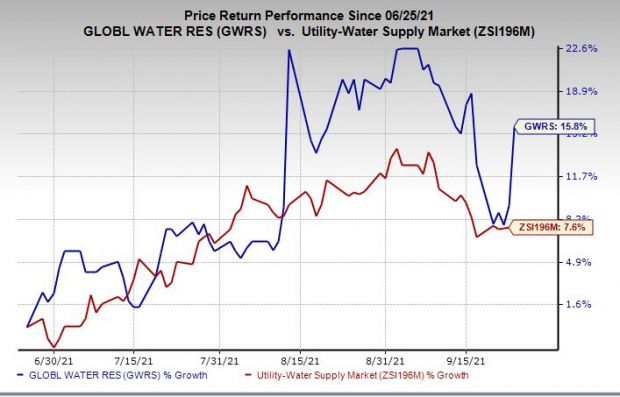 Image Source: Zacks Investment Research

Zacks Rank

The company currently has a Zacks Rank #4 (Sell).
You can see


the complete list of today's Zacks #1 Rank (Strong Buy) stocks here


.

Time to Invest in Legal Marijuana

If you're looking for big gains, there couldn't be a better time to get in on a young industry primed to skyrocket from $17.7 billion back in 2019 to an expected $73.6 billion by 2027.
After a clean sweep of 6 election referendums in 5 states, pot is now legal in 36 states plus D.C. Federal legalization is expected soon and that could be a still greater bonanza for investors. Even before the latest wave of legalization, Zacks Investment Research has recommended pot stocks that have shot up as high as +285.9%.
You're invited to check out

Zacks' Marijuana Moneymakers

:

An Investor's Guide

. It features a timely Watch List of pot stocks and ETFs with exceptional growth potential.

Today, Download Marijuana Moneymakers FREE >>

Want the latest recommendations from Zacks Investment Research? Today, you can download 7 Best Stocks for the Next 30 Days.

Click to get this free report


To read this article on Zacks.com click here.